My previous blog post was full of rants and all that. Well, with this post's title, you probably have guessed that this is like the victory message over my previous frustrations-- yes, you're right. Although not everything's perfect yet, I'm aloft from all my worries.
TUESDAY
I slept at 4:19 AM last Monday (Tuesday, actually) to finish the documentary I was making for my H100 class. I needed to finish and polish it since it would be presented that same day, Tuesday, by 0830.
I came to school LATE. Ugh. My fussy instructor went like "Ms. Jezreel. Our class is 8:30. Anong oras ka na dumating."... "kayong mga irregulars...blah..blah.." (No, I'm not an irregular student. I just added that subject so I'm considered one of the irregular students in her class).
Anyway, all her fussy rumblings faded out after the whole class viewed the documentary I made. I made. I made. Myself. Alone. (Question: what are group mates for? :p)
It was chosen to be an entry for the Silip Sining-Saliksik :)

Next.
My English110 professor required us to make a mini-thesis. My topic was about the Effects of Online Blogging. I was able to finish it the night before the deadline, which was Tuesday. Yeah. Sabay pa ang deadline ng Human and Eng.
While I was printing the document on Monday night, reaching the 8th page yet, an error occured: Black Ink Out. Replace with another Epson CX1500 T038 Cartridge. Oh yeah, right. Perfect timing!

I needed to skip my Philo class to print my English110 requirement.
The deadline was 2:30. I was at the Old Market by 2:20, having my work photocopied. I had the rushing Super Mario Bros. music on my head. It was like I needed to jump to the flag pole in seconds! Tenen-ten-tenen-ten-ten :p

Reaching the English Department, the princess was in another castle. Haha. My prof left and will be back by 5pm. We were allowed to just leave our requirements on His desk. Yay!
WEDNESDAY
Next. Next.
Zlyne, Aileen, Joan, and I were supposed to rush for our DevPsych research work. Pero here's some great, great news - research deadline was extended to Coreen's 18th birthday--October 10! Weee! Relieved.

Next. Next. Next.
Our group in DevPsych was supposed to report last Wednesday. I had their slideshows since they sent to me theirs through email (wala lang.united kami.hehe).
So there. Last Wednesday, we were supposed to report at 0830 BUTTTTTT I woke up by 0838 through a call I received from Zlyne. Yay. Palpakkkkkk.

Well, I still went to school. I arrived at 9 something. Nakaka-hiya. Good thing Aileen had a copy of her slideshow! There.. We were able to report without (an obvious) mess. :D

Next. Next. Next. Next.
After our report (around 10), I had myself excused from class to attend Silip Sining-Saliksik.
CLSU's President, Dr. Sevilleja, and other department heads were there. Aww. Tensed.
Anyway, I cannot help but mutely shout upon watching two documentaries before ours-- **drum rolls please** we won the first place! Woohoo.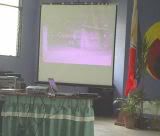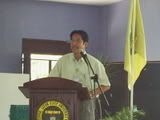 THURSDAY

After my Philosophy class, Joan and I proceeded to rm.208 for my defense. I wasn't really under tension since I was confident that I knew my paper well, but when my professor interrogated the my block mates preceding me, I had a certain feeling of bloodlessness. I got really nervous (Joan almost heard my heartbeat) Haha. :D
Well, during my turn, I spoke straight (and probably fast). I was glad with the result of my thesis defense. It seemed like Sir I. even got interested with blogging :)
It was also very nice kuya Allan and Joan to affirm me re the way I presented my mini-thesis.
Hay. At last!


My previous post was just a spice such that you, guys, would appreciate God's greatness in my life.
Although what I've blogged about was just ordinary for college students, it was an extra-ordinary experience to overcome such without any major falls.
"Show me Your ways, Oh Lord,
teach me Your paths, guide me in Your truth and lead me.
For You are my Lord, and my hope comes from You all day long." (Psalms
25:4-5)
I have placed ALL my hopes unto the hands of the Lord so it wasn't really unusual to experience spontaneous victories!

Thank You, Lord. Apart from You, I am nothing and would be nothing.